Baby Bedding
Crib bedding Sets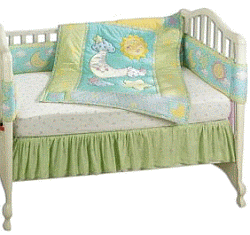 Iridescent Moon Crib Set
by Just Born
The Iridescent Moon crib bedding set is a sweet collection of moon, sun, clouds and shooting stars in a combination of gender neutral, soft pastel prints and appliques. The crib set includes a comforter, and crib sheet, bumper and a dust ruffle.
The comforter is 33"x40" with soft applique embroideries, but it is not 100 % cotton, so be careful if your baby has a sensitive skin. The crib sheet has elastic all around for a snug fit and the bumper fits all standard cribs and has ties to keep it firmly in place.
The set is inexpensive, but the quality is great, incorporating aqua, green, yellow, and pink into a pleasant variety of happy moons, stars and suns set against a cute background of pastel stars and clouds.
Shipping Weight: 4.40 pounds
Bumpers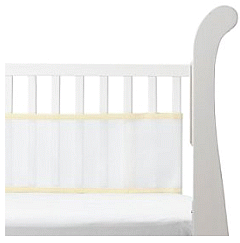 Yellow Gingham Breathable Bumper
by Trend Lab
The Yellow Gingham Breathable Bumper is a safer alternative to traditional crib bumpers, a two piece system with no ties, allowing an easy installation and a secure fit.
The breathable mesh lining improves air flow. It can be removed for machine washing and can be intalled without ties.

You can sleep at night much better knowing you have a breathable bumper on!
Shipping Weight: 1.15 pounds
Receiving blankets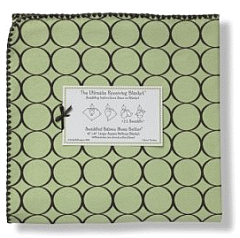 Ultimate Receiving Blanket
by SwaddleDesigns
The Ultimate Receiving Blanket is a beautiful multifunctional blanket optimized for effective swaddling and is much larger - 42" x 42" - than typical receiving blankets.
Made of pre-shrunk, super-soft cotton flannel with a beautiful decorative edge is both stylish and functional. New parents often struggle when swaddling, but the blanket includes a simple-to-follow, cute illustration showing how to swaddle sewn to the edge of the blanket.
Shipping Weight: 4.00 ounces
Crib Bedding Sets | Crib sheets | Bassinet sheets | Receiving blankets | Mattresses | Mattress pads | Baby Blankets | Baby Pillows | Bumpers