Baby Feeding Essentials
Baby bottles
Nipples
Breast pump
Breast milk storage
containers
Bottle liners
Bottle brush
Bottle rack
Baby bibs
Teethers
Breast pads
Pacifiers
Highchair
Nipple Cream
Nursing pillow
Nursing bras
Bottle Sterilizer
Bottle warmer
Formula (always ask
your pediatrician for
recommendation)
Baby Bottles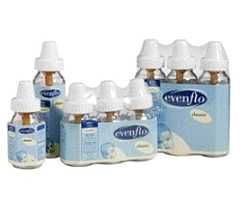 Clear Glass Baby Bottles
by DaVinci
The 4 oz. 3pk. Clear Glass Baby Bottles by Evenflo are more sanitary and easier to sterilise then the standard plastic ones. They're better for the environment, and better for your baby. The glass holds heat well and they also clean up much better without the common staining found in plastic bottles.
The Sensitive Response nipples are flexible, soft, designed to adjust to a baby's sucking pressure giving a comfortable feeding experience. Every bottle from the pack comes with a nipple, a cap ring, and a nipple cover.
These bottles can break upon impact. They are fine for infant feeding but they should only be used with adult supervision. You should consider switching to unbreakable plasic bottles when feeding babies after 3 months of age when they are old enough to hold and grab for their bottles.
Product Dimensions: 7x6x2.9 inches, 14.1 ounces

Pacifiers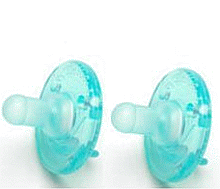 Soothie Pacifier
by The First Years
The Soothie Pacifiers are sized and shaped for the infant's developing mouth. They are made of hospital grade, latex free silicone, having a durable one-piece construction, featuring a gentle swinging motion and caster wheels for easy mobility. Can be used for birth to 3 months age and up.

Over 2,000 hospitals nationwide use the Soothie pacifier!
Breast pumps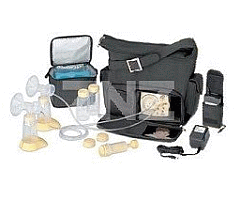 Pump In Style Advanced Breastpump
by Medela
The Pump In Style Advanced Breastpump by Medela uses a revolutionary new technology that was first researched for hospital grade pumps - a feature that actually mimics a baby's nursing rhythm by pumping in two distinct modes: "let-down" and " expression" .
Reseach showed that in the first few moments of nursing, babies initiate faster milk flow by suckling rapidly. After the flow is established, the baby switches to deeper and slower suckling for maximum milk flow in less time. The pump simulates this two-stage pattern for a highly effective and efficient pumping experience.
This professional looking and stylish pump system comes with a black shoulder bag, a battery pack, AC adapter, four bottles with lids, CSF breastmilk bags, bottle stands, bottle holder, breastshields, removable cooler carrier with ice packs, extra storage pockets and a built-in picture frame for a photo of your beautiful baby.
Baby bottles | Nipples | Breast pump | Breast milk storage containers | Bottle liners | Bottle brush | Bottle rack | Baby bibs | Pacifiers | Teethers | Highchair | Nipple Cream | Breast pads | Nursing pillow | Nursing bras | Bottle Sterilizer | Bottle warmer | Formula*
* ask your pediatrician for recommendation