Baby's Nursery essentials
Crib or Cradle
Bassinet
Nursery Decor
Changing Table
Dresser
Bouncer Seat
Rocking Chair
Walker
Nightlight
The countless hours you will spend feeding and taking care of your newborn are precious moments and you'll appreciate the comforts that you added to your nursery.
Make sure that the craddle or bassinet you'll buy has a sturdy bottom and a wide base for stability, smooth surfaces with no protruding staples or other hardware that may cause injury. The legs should be equipped with effective and strong locks to prevent folding while in use.
The changing table should have safety straps to prevent falls and equipped with drawers or shelves that are easily accessible without leaving the baby unattended.
Cribs
When you're planning to buy a crib check that no slats are missing or cracked and they are spaced no more than two inches apart. The mattress must fit snugly with less than two fingers width between edge or mattress and crib side. The mattress support must be securely attached to the head and the footboards. Make sure that the crib's drop-side latches cannot be easily released by your baby and all screws which secure components of crib are present and tight.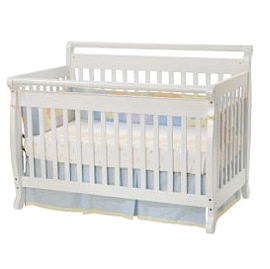 Emily Convertible White Baby Crib
by DaVinci
The Emily Convertible Crib by by DaVinci is designed to make parenting a little easier. Convertible cribs like this allow parents to keep one crib from birth till an adult bed is required.
The crib can be converted to a day bed and then into a full sized bed with the inclusion of a full size footboard and headboard, both included. The mattress support adjusts to four different levels. There are no moving parts, making it safe for the youngest child.
A beautiful centerpiece to any nursery, yet practical and mature for an older child. Stylish and elegant, the Da Vinci Emily Crib is the only bed the child will ever need before adulthood.
Product Dimensions: 56 x 38 x 6 inches
Shipping Weight: 80.00 pounds
See more Baby Cribs
Cradles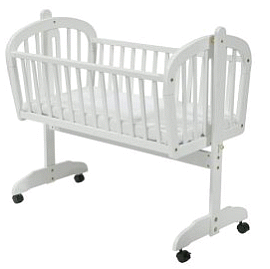 Futura Cradle in White Finish
by Fisher Price
The Futura Cradle in White Finish features a gentle swinging motion and caster wheels for easy mobility. A cradle pad is included.
The crib is handcrafted, hardwood contruction, featuring arched headboards and footboards, a locking pin for safety, a metal support under the bottom panel.
Product Dimensions: 37 x 23 x 39 inches
Weight: 55 pounds
More Cradles
Bassinets
Aquarium Play Yard/Bassinet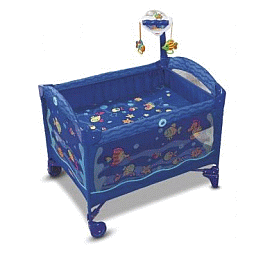 The Aquarium Play Yard features a full size removable bassinet and large play area all in a fun, aquatic theme. Folds compactly and comes with a carry case for travel or storage.
A fun fish-shaped aquarium/mobile features music and sound effects, a "swimming fish" and two hanging toys. The aquarium can be attached overhead while the bassinet is in use, or it can be moved into the playard for additional fun as your baby grows.
Functional, cute and practical, sturdy and easy to assemble, The Aquarium Playyard is the perfect sleep and play environment for baby. It's also on wheels which is great to move from room to room.
The bassinet is very easy to pop into place, or it can be dropped down to the bottom to use as a playpen later on. It comes with a carrying case, everything nicely wraps together to go in the bag with a handle.
Product Dimensions: 10.6x11x33 inches
Shipping Weight: 32.20 pounds
See more Bassinets
Nursery Decor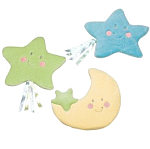 The Iridescent Moon Soft Wall Art decorations help complete the nursery. Easy to hang and lightweight, the smiling faces of the moon and stars is fun for your baby to watch.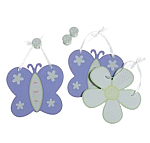 Sweet as a Daisy Wall Décor is a set of three colorful hand painted wooden wall hangings including three decorative knobs with ribbon ties to hang them with.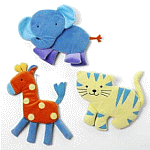 The Safari Wall Hanging by KidsLine adds delightful décor to the nursery. This trio of plush characters features a giraffe, elephant and cat in blue, cheery orange and yellow.
More
Nursery Decors
Other items for your nursery:
Changing Tables | Dressers | Bouncer Seats | Rocking Chair | Walkers | Nightlight