Bathing and Health
Bath tubs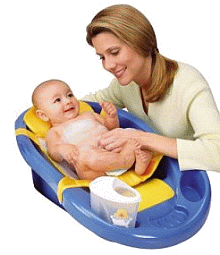 Comfy Duck Bath Center
by Safety 1st
The Comfy Duck Bath Center by Safety 1st is designed specifically for infants up to 6 months. Includes a built-in storage tray for accessories, a complimentary rinse pitcher, a slip-resistant foam pad, water temperature strip and drain plug.
With this bath, you can use both hands to wash the baby instead of supporting the head and keeping it out of the water, but you have to be very careful that your baby doesn't bang his head off the hard plastic side.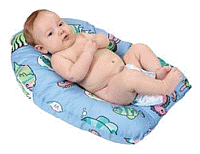 The Safer Bather bath pad from Leachco (newborn to 9 months) has all of the features every parent needs to assure babys bath is as safe and pleasurable as it can be.
This softly cushioned bath pillow with colorful striped fish and seahorses helps keep your infant in place while you get her clean. It's soft polyester filling dries quickly and is mildew and mold resistant.The head is elevated keeping water out of babys ears. The sturdy hanger is handy for a convenient storage.
Your baby will appreciate not having to lay in a hard plastic tub!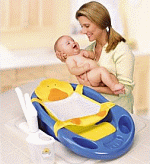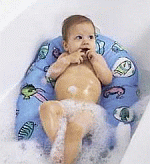 Bathing & Health essentials:
Baby bath tub, Bath sponge, Baby soaps and lotions, Tearless shampoo, Bath toys, Baby oil, Hooded towels, Ointment, Baby thermometer, Vaseline, Baby powder, Nail scissors/clippers, Baby brush/comb, Nasal aspirator, Sunscreen, Q-tips